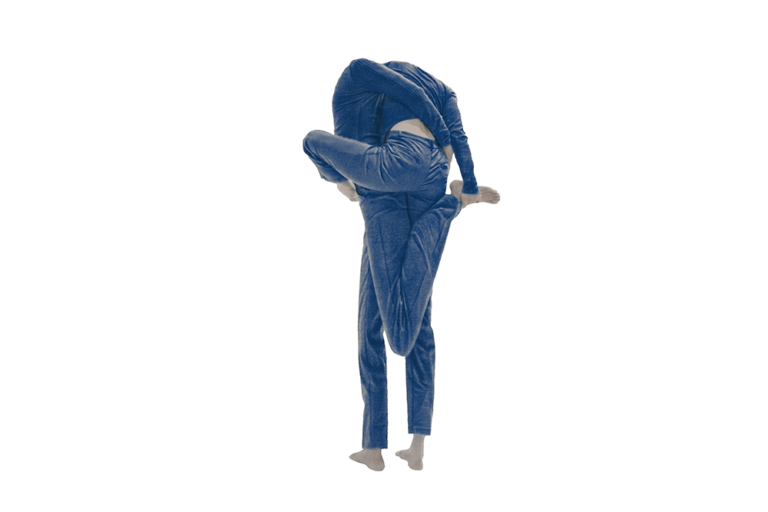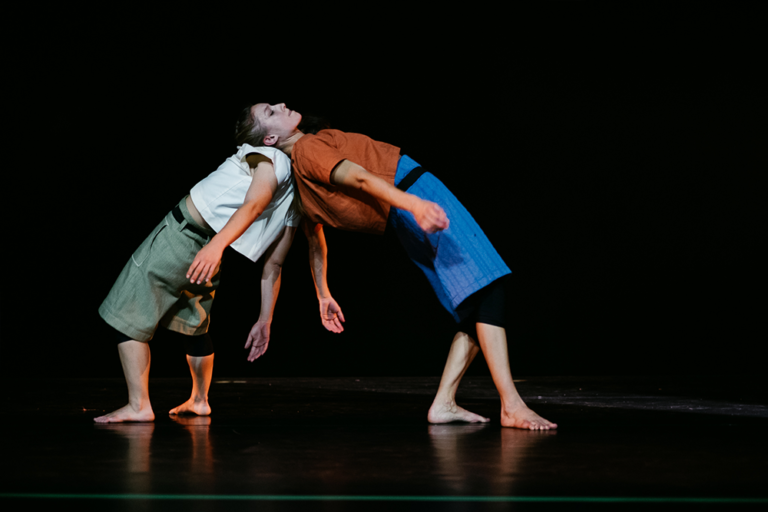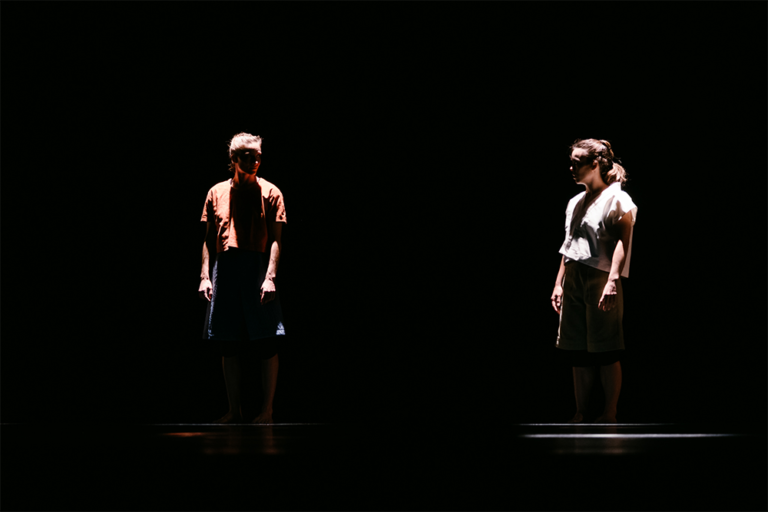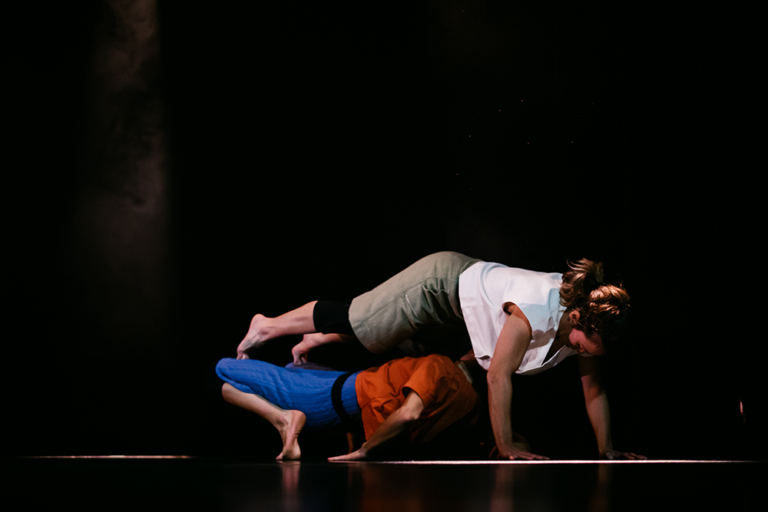 Performance Text Part 1
We are so vulnerable – sometimes without even realising it. Our paths move along dots and lines drawn on the floor, on the walls, on our faces. Where are we going? Infinity, that which has no end, frightens us: the idea of the beginning or end of time. We are a little, small particle floating in the cosmos. We are a raindrop, a snowflake slowly descending on a tree in winter, we are a grain of earth taking shelter in the pot inside a house. Will beings in other galaxies be as egocentric? I guess it is because of the sun: the idea of revolving around oneself. But in reality we always revolve around something stronger, due to the law of gravity – it attracts or stabilises us – I can ignore the law, but it still exists. Where do we come from? What are the paths we have crossed? Suddenly, whispers, small voices of memory, take us to special moments, as when time stops and the angels play around us and it is possible to remember where we have come from and where we are going… and the present manifests itself in a magical and paradoxical way. Sometimes we want to speed up – or pause completely, go faster – or stop the clock. Everything is a process, has a trace in time, in space, is determined by a power superior to ours, by nature, by God. It is difficult for us to understand the miracle of life, the development of life, 9 months, 20 years, death. It takes time to adapt to such powers and to discover how to play with gravity. There are no automatic impulses solving everything in an instant.
Performance Text Part 2
The world calms down, silence becomes part of everything again. At some point things had intensified so much that there was no stopping, no space to be silent and present. There are people who like maps: they look closely and for long periods of time at territories and connections between countries. From a map everything seems to be smaller and reachable, everything seems to be interconnected by endless curved lines that dance on the drawing of the earth. The color scale between Tanzania, Turkey and Finland looks like a simple play of patterns between green, brown and light blue. How much can fit in this world? There will be enough space for everyone without the imperious need of having to delimit everything at specific points to exact measurements, having to mark territories, having to apply for permits, having to respect private property. Who gives the right to choose? At what point did love go down the drain? Sometimes our load becomes heavier than usual. The guilt of historical burdens begins to leave marks on the skin when gravity pulls it to the ground… Without realising, we keep making the same mistakes, repeat patterns, continue the chain. Regardless of where the weight is placed, it generates friction, then leaves deeper marks until it gets to the point where it generates blisters… the more remote in time it is imposed, the worse it is, the more damage it generates. How is it possible to let go of that which imprisons us? the need to be right about something? the need for my will to be approved? for it to be my way?… and what if my way is the same one that hurts me?
Performance Text Part 3
The shadows of the trees drew strange figures on the ground while a few rays of sunlight generated colourful halos through the glass. The birds began to exist again, the sound of their songs echoed in the garden. Spring had peeked through the trees and warmed the atmosphere a little more. That calmed them, at least enough to be able to take more responsibility for their own lives. They had never been so grateful for the sunlight, for the warmth that this star transmits. To imagine those rays of light traveling 150 million kilometres to caress the parts of the skin that were exposed… Something that crossed their minds for the first time. Sitting next to a window, they talked about how the photons started from that dazzling mass fighting to get to the surface and to the earth, softening on the way, going through the atmosphere, reaching the window pane and caressing their neck, their cheeks, their lips, stimulating their skin, their metabolic process, creating vitamin D, strengthening their bones … all that in a few minutes while rethinking that life on planet earth was not so bad after all. For so much of their mental journey people had not realised that the seasons change and that the earth turns, that we are part of the whole, that if the earth moved away from the sun we are dead and if it approached it more we are also dead. Everything is perfect as it is. The passing of time is a blessing in life. No one knows what will be after, nor what is beyond, nor what will be in a distant galaxy – however people knew what was here and now, watching the weak bushes bloom again after winter. They had learned to live on lies, in false spaces that still did not give credit to natural processes (which are necessary)… time is time and everything has a process … modern mechanisms, haste, acceleration of production systems, supply and demand, competition, offering a better service – these are ideas that were not much use now, everything that they had strived for was no longer worth it.
SYNOPSIS
We all know this feeling: we are curious, feel attracted, want to try things, play, get to know each other. But without realizing, suddenly borders are being tested, we want to express our POINT of view, want to have what the other has, want to be where the other is, want to trick the other, or apologize instead, want to compare, be better, attack, defend ourselves, run away, be right. Two women on stage invite you to watch a relationship which tells about curiosity, conflict, exhaustion, and hope. In »My Blue is Your Green» VAYA presents a performance bursting with energy as usual – containing acrobatic elements in an exciting encounter of two people.
WITH

Tina Halford: concept, choreography, dance
Raul Martinez: choreography, texts
Angelica Baños: creation, dance
Agnes Sales Martin: creation, dance
Adele Madau: musical composition
Steffen Melch: light design
Stefanie Wyen & Bianca Heck: costume
Jose David Cerda: graphic design
Loida de Vargas & Vitalis Neufeld: photography


produced in Germany in 2020/21

60 min // piece for theater
30 min or 15min // piece for street
PERFORMED
16.04.20 E-WERK Freiburg, Germany (postponed due to COVID-19)
17.04.20 E-WERK Freiburg, Germany (postponed due to COVID-19)
18.04.20 E-WERK Freiburg, Germany (postponed due to COVID-19)
19.04.20 E-WERK Freiburg, Germany (postponed due to COVID-19)
06.05.20 H95 Raum für Kultur, Basel, Switzerland (postponed)
12.09.20 short version at the FreiArt Festival Freiburg, Germany
13.09.20 short version at the FreiArt Festival Freiburg, Germany
16.10.20 short version at the Festival Tanzherbst Kempten, Germany
29.04.21 E-WERK Freiburg, Germany (cancelled)
30.04.21 E-WERK Freiburg, Germany (cancelled)
01.05.21 E-WERK Freiburg, Germany (cancelled)
02.05.21 LIVE-STREAM at the E-WERK Freiburg, Germany
07.05.21 H95 Raum für Kultur, Basel, Switzerland (postponed)
"My Blue is your Green" was created with the kind support of the cultural office of the city of Freiburg and the foundation of the Landesbank Baden-Württemberg, in a coproduction with E-WERK Freiburg and Studio Pro Arte in Merzhausen and Sponsoring by Yoiqi.